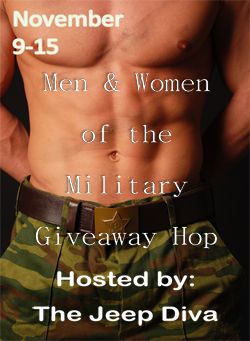 Hey everyone, welcome to my post in the Men & Women of the Military Giveaway Hop. I am honored to be a part of this. First I want to say Thank you to The Jeep Diva for organizing such a wonderful hop in honor of our military.
Since I am a reader/blogger and not an author, I don't have a book that I can personally feature for this hop but I can however share some of the books that I have read and loved with military heroes and heroines.
First and for most I just want to say THANK YOU to all the men and women who have gone above and beyond to ensure that we have a safe and free place to call home.
Lisa Renee Jones ~ The Zodius Series
Lori Foster ~ Men Who Walk the Edge of Honor
Cynthia Eden ~ Deadly Series
Lora Leigh ~ Tempting Seals
Continue after the Tempting Seals by reading the connected series
and last but definitely not least...
Kallypso Masters ~ Rescue Me Series
These are just a few of the books that feature military men and women whether active, special/secret branch or retired. I hope you take the time to try out these books, I promise they will not disappoint.
I am offering one lucky commenter a $5 Amazon or B&N gift card and a package of swag. All you have to do is comment with your email to enter.