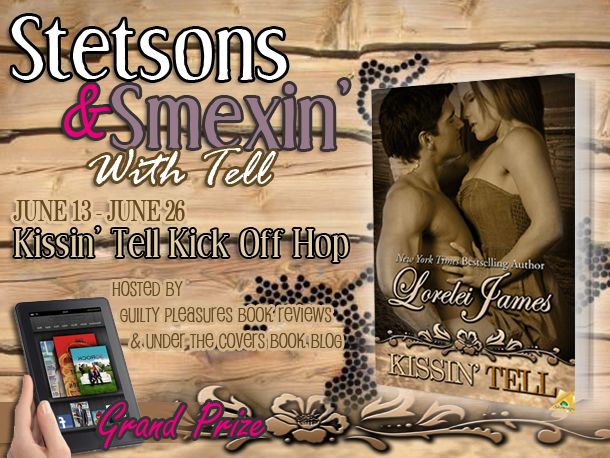 Hello and welcome to my post to help celebrate the release of Kissin' Tell. I don't know about you but I am a HUGE fan of the Rough Riders and the McKay/West boys and well, just cowboys in general. I am so excited for this book to release. Now more about the series.

She once led him around by a string. Now he's the one holding the reins.

Georgia Hotchkiss swore wild horses couldn't drag her back to Sundance, Wyoming. So it's ironic she's forced to take a rodeo PR job in her former hometown—right before her ten-year class reunion. The only thing worse than facing her cheating ex-husband and his pregnant wife? Showing up to the reunion without a date. Fate smiles on her when she runs into her former classmate and current cowboy hottie Tell McKay. With his infectious smile and fun-loving ways—not to mention his banging body—he's the perfect solution to her problem.
Tell McKay had it so bad for Hot Lips Hotchkiss during high school that he let her run roughshod over him. But he is no longer that easily manipulated boy—these days he's earned a reputation with the ladies that lives up to the McKay last name. He agrees to escort her to the reunion with one stipulation; that Georgia proves she has left behind the goody-goody cheerleader of the past—by sharing his bed.
Their sexual chemistry flashes so bright, they barely notice that the reunion has come and gone, and now they're tangled up in another dreaded "R" word—relationship. But if Tell wants to get the girl this go-around, he'll have to come up with a whole new set of knots to tie up her heartstrings.
Warning: Contains a sweet talkin' wild cowboy with a wagon load of crazy-hot sex fantasies and the mad bedroom skills to back up his claims.
Pre Order Now!
For more information about the Rough Riders and/or Lorelei James, visit her website HERE
My thoughts on the series:
About 3 yrs ago, my sister in law came up to me and said "This is my all time favorite book, but it might be too hot for your tastes" Keep in mind, I had only read Nora Roberts and one Lora Leigh up to this point. Well, I couldn't let her show me up so I picked it up to read it. Within the first 5 pages I was absolutely hooked. I read it in one day, called my sister in law asking if there was more and have never looked back.
Over the years and throughout the series, I have fallen in love with a number of things...
1) The writing: Lorelei has a way of capturing your attention and hanging on to it. She puts the perfect balance of tension, heat, and emotion into these books and it is utterly impossible to put one down once you pick it up.
2) The characters: They are so real. I have always felt like I could hop on a plane and head to Wyoming and be welcomed with open arms at the McKay ranch. They have real emotions, lives, and problems. The family dynamics are amazing and actually make me envious. I would love to have a huge family that loves the way the McKays do... unconditionally.
3) The storylines: The books focus on the people and their lives. The relationships are unique yet perfect and again very real. There are never "villians" in the books so there is nothing to distract from the romance. Oh, and I should mention the heat. Oh, my, Lorelei knows how to burn up the pages with her hot cowboy smexin. She is not afraid to show sexual diversity and understanding of alternate lifestyles.
4) Lorelei herself: I have had the pleasure of hanging out with Lorelei a few times and I am proud to call her a friend. She is an amazing person with a great personality. Sweet, caring, funny, and a whole lot of fun. She appreciates her readers and respects them and is always kind when approached. I was so nervous the first time I met her but I quickly realized that she is very easy to talk to. I am honored to have had the chance to get to know her and I hope to see her again real soon.
I would HIGHLY recommend starting this series from the very beginning. I know it seems like a lot but trust me, once you get going, you will fly through the books and be bummed you are done.
Thank you to Under the Covers and Guilty Pleasures for putting this hop together and Thank you to Lorelei for keeping us entertained all these years.
Excerpt:
KISSIN' TELL-Rough Riders book 13
At least it hadn't happened in math, where he'd have to stand at the board to solve a problem and then everyone could see…his problem.
His cheeks burned imagining how much that would suck.
He shifted in his seat and blamed his situation on the distraction seated in front of him.
The oh-so-hot, oh-so-out-of-his-league, sweet, sexy and amazingly perfect class beauty, Georgia Hotchkiss.
Yeah, Georgia was always on his mind.
She was something else. A petite powerhouse. The ultimate diversion. Those damn short, damn tight cheerleading skirts that showcased her athletic body. If he angled his head to the side, he caught a glimpse of her muscular thigh instead of the back of her head. Not that the view was bad. Her hair was as black and shiny as a crow's wing in the sun. Add in her china white skin, full ruby lips and Georgia could be a modern day Snow White.
You're a real poet, McKay. More like a fuckin' pervert. Think about something else.
Startled by the husky rasp of his name, he glanced up from his notebook, right into pale, icy blue eyes that made him stammer like a fool. "W-what?"
"Did you do the homework assignment?"
Be cool. Do not imagine Hot Lips Hotchkiss whispering that in your ear. "Yep."
Her mouth curved into a smile. He wondered if the gloss glistening on her lips was flavored. Would it taste like bubblegum? Peaches? Ripe black cherries?
"Thank God. Can I copy it?"
Tell managed to rip his focus from her plump lips. Before he could speak, she cranked the charm on high.
"Please? You let me do it before. And I didn't have time because I was…"
Sucking face with your asshole boyfriend?
Now for the contest information! One commenter from this blog will get a set of Romance Trading Cards and an "Official McKay Buckle Bunny" button from Lorelei and a SIGNED copy of COWGIRLS DON'T CRY and a RT 2012 Western Round Up bag from me.
**Comment with your EMAIL and tell me what your favorite thing(s) about cowboys is.
**Also be sure to fill out the rafflecopter below for a chance at the GRAND PRIZE at the end of the tour.